Edgewater Greyts WebLog
Wednesday, August 31, 2011
The years fly by
It is now another 2½ years since I blogged. I have left huge gaps in the logging of the dogs in our household. I should make a stab at that.

Christmas week 2007 we welcomed Poppy as a foster in our house. Poppy was supposed to be temporary because we were already at our household limit of six dogs, but others from G.O. seemed to think that they shouldn't try to place her elsewhere. After a couple of months we knew that it would be brutal to uproot her again since she had settled herself in to our crew, which at that time consisted of SurfRider, Terri, Champ, Cents, Dime, Jake, and now Poppy.

Terri passed early in February 2008, and then we said goodbye to Champ 16 days after we said goodbye to Terri. February was not a good month.

We were going to adopt an old brood bitch named Star who had had some phenomenal record of pups, something like 51 pups. We ended up adopting Hillary and Squiggy because they were seniors from the same household and were going to be much harder to place. Their owner had been Larry McKeon, a former state representative, and when he passed it was obvious that the best thing for them would be to not separate them, having lived together for so long. Squiggy also needed constant medical attention. Hillary McKeon joined our household on July 12th, and Squiggy McKeon 10 days later. Again we were over our limit, now having seven dogs.

SurfRider passed in February 2009. February was not a good month.

We had to say goodbye to Hillary after less than nine months, in April 2009. This was rather unexpected and she's the youngest dog we've lost. We always thought that Squiggy would be the first to go, having been so severely ill. We ended up having Squiggy for another two years, and with time all signs that he had ever been ill had disappeared, including his IBD. Squiggy passed this year, in April, 2 weeks shy of his 12th birthday.

Poppy lived to the grand old age of 14 years, 2 months, and 10 days. She was the second oldest dog we've lost, after Kimba.

Two dogs joined our household in 2010. Chelle joined our crew January 2010, and she's the youngest we've ever brought home, at two years old. Chelle is deaf. Chelle was readily accepted by Cents, Dime, Jake, and Squiggy. It was to her advantage being a younger dog, and the older dogs all let her get away with so much. Rae joined our crew November 2010 when her former mom became ill and found herself unable to care for her dogs.

The current family consists of me, Tom, and our five dogs. Rae turned 12 in February, Jake will be 10 in November, Cents and Dime the twins turned nine in April, and Chelle turned three in January.

That's the dog log for the last few years. It's not much detail and hopefully I'll do something about that before another 2½ years go by.


Thursday, March 12, 2009
SurfRider
My mind dances away, dances away. Not drawn like the moth to the flame, yet as unable to escape. Like the light of the candle it's there in this room of my life, and no matter where in the room I am I am always aware of it's light. Right now I'm shying away from it, knowing it would burn my eyes out if I look at it too closely, much like fearing to look at the sun straight on.

SurfRider is gone. I can say it, talk about it a little, but I'm not letting myself feel the impact of it. Thoughts briefly touch on it, and flit off. The feelings for my beautiful black boy that are the genesis of that flame I cannot look at. Even in this instant as I write this about him my thoughts dance away, instead focusing on the written word and not touching the feelings I'm writing about.

SurfRider
2/28/1997 - 2/9/2009


Monday, February 04, 2008
Full Circles
I haven't blogged in 2½ years. Greyhounds are such a joy, but Tom and I have taken on a really hard task, of welcoming old greyhounds into our lives, no holds barred. You might say to yourself that the clock is already running out on them, and that you should expect them to die sooner than later, but there is that piece of your heart that goes with them... well, when Jack went so suddenly in March 2005 it really ripped me apart. Who would think that an old guy you only had with you for a year would cause you to grieve with all your soul for another two. I should have known though, because of how long I hurt with the loss of Knight, my "Dearest Baby Doe."

I will say that I feel Jack with me every day, to a profound degree. He went beyond being my heartdog like Knight - he was a soulmate...

We said goodbye to the "Empress of all that she Surveys," our wonderful amazing Kimba back a year ago November due to cancer. She had such an indomitable spirit and we were lucky to have her with us for as long as we did, because she was nine when we got her. She gave everything to life and lived with us for a half a year past her 14th birthday, and left only because her body had failed her.

We said hello to Pretty Boy, now known as Jake nine days after Kimba got her wings. That is its own story and somewhen I will tell it. It seemed more than coincidence when Jake got here that his 5th birthday was discovered to be the day she passed.

Saturday we said goodbye to Terri because of cancer. Terri was a new years baby and we celebrated her 13th birthday on new years day. That was a wonderful milestone, because it was only two weeks prior that she was diagnosed. For being taken by such a horrible disease, her passing moment, 10:28 am on saturday, was a moment of extraordinary peace. My last memory of her is as if she was curled up for sleep dreaming.

Unlike any of the others that passed before her though she will continue on with us. Her daughters Cents and Dime remain. Dime joined her mother and sister here two years ago this past November. Though they individually are not at all like their mother, or like each other, each of them evokes her.

Full Circles. Jack's soul walks with me and guides me in life. Knight, wings revealed, will come for me when I die... Kimba made way for one who had waited for us, for Jake, to be in our home. And Terri continues on with us in her daughters flesh.

Terri, today I miss you most. Fly free, my sweet perfect girl.


Wednesday, June 22, 2005
mother and daughter
Monday was Terri's first got'cha day with us. It's hard to believe it's been a year and it's hard to believe it's
only
been a year. Happy got'cha, girl! Recently she's begun to show a different kind of affection to me that truly touches my heart - a very gentle and trusting manner in how she interacts with me, and I am proud that she sees fit to treat me thusly.
I have to further comment on
what a good girl she is!
She is the best - and it is so clear that Hollie her former mom did a great job in teaching Terri her manners. Hat's off to you Hollie wherever you are. You are certainly welcome to visit Terri anytime you are back in the windy city.
Here is a picture I received from a mutual friend. Well, I
don't
dress up my crew, but I think this is a really funny shot. Still, I don't think Hollie would recognize the lady that Terri has become. Terri now is a very serene girl. I would guess it's her double-digit age, and maybe because she lives with a bunch of very laid-back hounds. Oh, except for her daughter Cents...
Tuesday was Cents one-month anniversary in our home. There is a running debate going on in the house about this poor girl's name. When we first brought her home we called her Penny because her kennel name Cents seemed awkward (it comes from her NGA name Emerald Cents). After all, a "Penny" is a "Cent." But last week I realized that she had a sister named Penny, so for me, "no, no, no, that cannot be." Tom however doesn't care for the name Cents. So we're using both, and she seems to know both.
Here are some shots that Kathy up at the kennel took of Cents before we brought her home.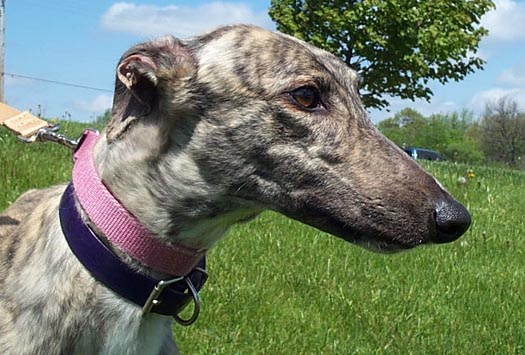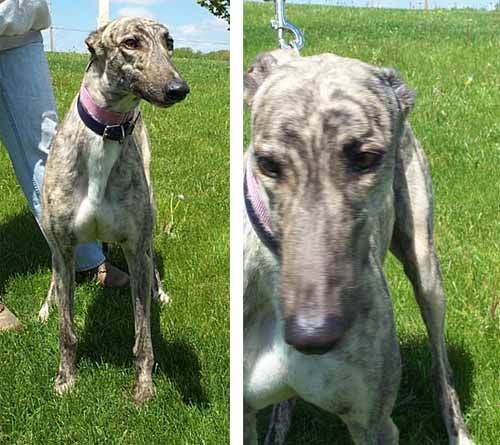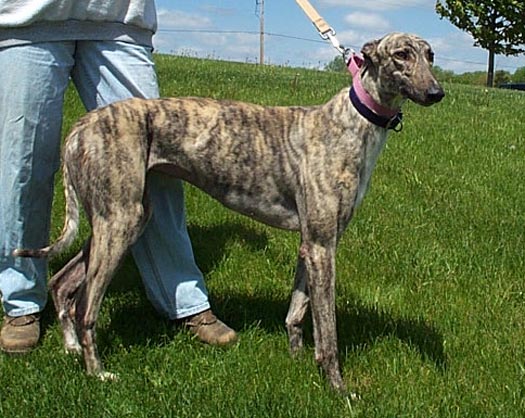 She took these pictures even though we snatched her up once we heard that Huns had retired her, because "I like to archive the dogs GO adopts, just in case we ever need them again."
We had Kathy's head spinning that kennel day. I asked her "Whatever happened with Emerald Cents?" and she replied, "Well, she's here. Oh, there she is." as one of the volunteers was about to put her back in the crate from a walk. I almost shrieked "we're taking her!!" while yelling at the poor volunteer "don't put her in, she's mine and she gets another walk with me." Kathy's jaw dropped and she said, "Are you serious?" "Yes, didn't you remember we put dibs on her should she come up for adoption?"
It was a funny kennel day. I wonder if our lack of hesitation about her had an influence on others that day - it seemed like some on-the-wall folks made decisions...
I sent the following email to Kathy just 6 days after we got Cents:

Hi Kathy,

Tom keeps remarking that Penny has fit in so well that it is like she has always been here.

You've not been to our house but we have a wicked set of steps between the first and second floors - curved and steep. She's now doing them at will without supervision. The last time I saw her show hesitation was 2 nights ago. She had gotten herself upstairs on her own but when it was time to come down with everyone else she didn't appear. I went up and she was afraid to try ALONE. She WANTED to do it one last time with me there holding her collar - no pulling on my part except just maybe showing her at a couple of points to go a little slower. Since then she's a pro.

She was shown twice going up (you know, one paw after the other thing) and one other time going down. Then she learned from the confidence of all the others on the steps. In our house it's a parade, one after the other when we move activities from one floor to the other. So she'd see them parade up or down the stairs with them all showing her how easy it is - one after the other... She caught on fast.

It is so obvious to me that the best learning happens amongt themselves. All she has to do is watch and follow their leads and she teaches herself. doG this has been easy.

She still thinks every meal is her last. She still noses at the bowls on the kitchen counter when meals are being prepared but we are VERY careful that she never gets the opportunity to earn her own reward for bad behavior. After all, Tom and I have been trained by the best of them, my old buddy Jack.

Terri and Penny do have a connection and I think it's growing closer. I really think there is some sort of affinity going on there.

She is a sweet girl and she's really winning our hearts. She's even cool with the toothbrushing routine. And not one mess in the house in all this time. Tonight I'm putting the crate away as I think she doesn't need it at all. We both went out yesterday and we left her loose in the house for the 3 1/2 hours we were gone. Everything was fine. Noone, including Penny, seemed at all stressed.

And she's decided she likes stuffies too. I think she likes it here. :-)

We're taking her to the vets Saturday for her maiden vet visit. That should complete her indoctrination into her new life.

Now we'll just have to wait for the REAL Penny's personality to come out.

Stavros


Well, speaking of that personality coming out, it is. She's learned some manners, and doesn't immediately attempt to get into every bowl at the start of meal time, but waits for hers to be put down, and eaten. She is as interested as Jack was as to the food that may be on the counter, so the diligence that we had to have with Jack left us well prepared for this youngster's novice attempts at counter surfing.
Most of the new things we are experiencing with her have to do with her youthful energy. She makes dozens of trips up and down from the second floor just keeping an eye on everything, all the time. We've also never had anyone decide to move as many stuffies out to the yard as she does. Oh, and she likes greeting me at the front door at a full run, putting on the breaks and making the hall runners into sliding pads. THAT trick I can do without.
Mother and Daughter. They behave more like sisters...
Thursday, April 21, 2005
Champ and spring
Saturday was Champ's 11th birthday. We did not do a big special celebration, though I think the handing out of treats was very heavy-handed that day. Long long walks that day, as a matter of fact there have been very long walks almost every evening this week. The weather's been right for it, balmy, or just a touch cool which certainly is what Kimba prefers.

The rainbow crew would have loved it. Well they were there in my heart. I know that Jack is ever in my thoughts and I like to imagine that I remain in his.

Last night I started a batch of the homemade "canned" dogfood in our huge "Le Creuset" dutch oven. It takes 24 hours of simmering and I'll finish it up tonight. They all love the stuff.

Champ is a good eater, and he actually gets a little more than everyone else. His ribcage still stands out like a washboard though. We've tried upping the amount of food he gets but when we do that for a couple of days he goes off his feed completely and walks away from his bowl without touching it. Maybe he just doesn't like the feeling of having eaten too much. The trick seems to be to never overfeed him. I guess that's just the way his metabolism is.

We're trying a new strategy with him, to get some meat on his bones. I discovered he LOVES those nutritional supplement drinks like Ensure and Boost. About 250 calories a bottle I know for the Ensure. He's getting one of those every day now during the day and so far it hasn't spoiled his appetite for the regular meals.

Last night I also made a batch of homemade "Frosty Paws" too. That's basically one part of melted smooth peanut butter mixed with 2 parts plain yogurt, and then poured into 3 oz portion cups and frozen. I threw in a little bit of honey too as a change of pace. They all like these as a treat (never more than once a week though), and one of these cups will keep each of them occupied for about 20 minutes.

The temperature dropped today but it's a bright sunny day. Another nice evening for a walk coming up but we'll have to put on the tummy-warmers.


Tuesday, April 12, 2005
"life is good and I am content"
Saturday Tom and I went to Kennel day up at Emerald Greyhounds. It has been a long time since we made the trip up to Wisconsin. The last time the tolls for the round trip totalled $1.80, this time it cost $5. Ouch!
It was a beautiful day up there, nice and sunny, with a very comfortable breeze. We got to scratch the current crop of adoptees which is always a dangerous thing to do because they just steal their way into your heart. We also got to scratch one of Terri's babies, all grown up now.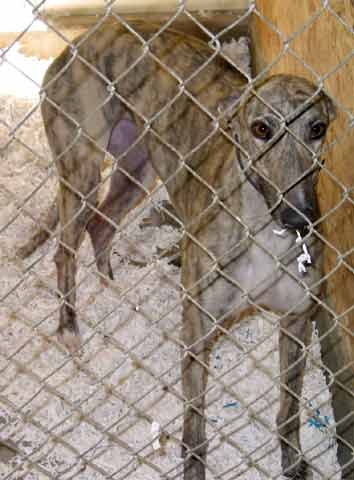 Her name is
Emerald Cents and she will be three on the 26th. Hun's had her there because she needed to go to the vets - apparently one of her legs was bothering her. I hope he remembers that we asked him to think of us when it's her time to retire.

And then I saw
FRISKY!!
"Oh So Frisky"
was up for adoption the same time as Knight was but didn't get a home for a long time after, about a year. Both Frisky and Knight were beautiful dark brindles, but Frisky was older and was harder to place because she reportedly needed to be placed as an only dog. See her adoption page that was up at the Greyhounds Only website
here
.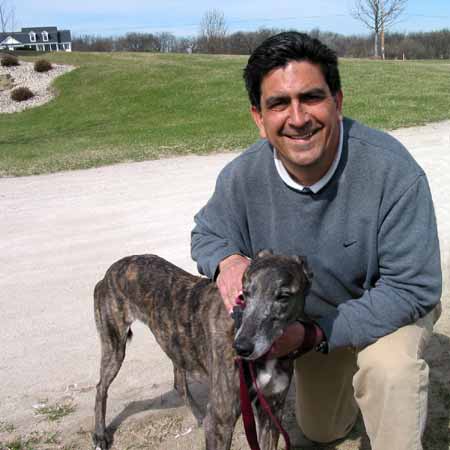 She finally got the home that was destined for her and has been there for about three years now. I would ask if anyone knew how she was doing and would hear glowing reports about her life with her own family. Saturday I got to see her for myself, doing really well, going into her 14th year. I got to spend a few minutes scratching her head and her eyes said it all - 'life is good and I am content.'
<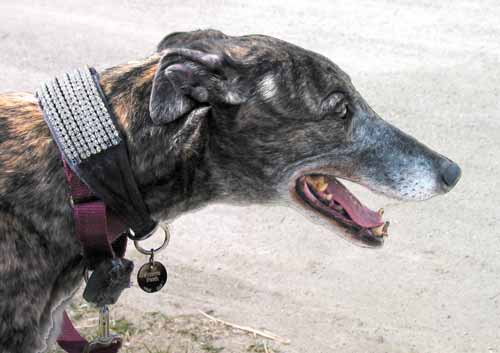 "life is good and I am content"
Tuesday, March 08, 2005
Jack
This past Sunday Jack took a seemingly minor fall while on a morning walk with me and Kimba. It was a warm sunny winter day. It would not have seemed to be such a big deal when Jack lost his balance except that when he ended his topple with his shoulder hitting the ground he let out a long hard scream.
We went from a day that started out to be a good happy day, to a day that ended with us saying goodbye. The bone in the leg he fell against had osteosarcoma, a horribly painful bone cancer, and that bone had a major fracture. There was just no fixing this except to give him our love and call
Dr. Shanan
to our house once again. At the end we made Jack as comfortable as possible and let him enjoy as much of his favorite homemade treat as he wanted. Jack closed his eyes for the last time at 10:40 pm Sunday, March 6, 2005, surrounded by love.
~ ~ ~
In celebration of the year that Jack has been with us I had been working on a set of web pages about that period. I had just completed it on the Friday before this happened. It is a bit irreverent but I have decided to leave it exactly as is. What better tribute could we make to Jack than to remember the laughter.
Sunday, October 31, 2004
an angel's wings
Saturday at about 6:55 am my Knight's wings opened and spanned the heavens. I hope that when my time comes she'll come to help show me the way across the rainbow bridge.
I am truly honored to have shared 3 1/2 years of my mortal existence with her. I love you so much, my "
dearest Baby Doe
."