Edgewater Greyts WebLog
Thursday, April 21, 2005
Champ and spring
Saturday was Champ's 11th birthday. We did not do a big special celebration, though I think the handing out of treats was very heavy-handed that day. Long long walks that day, as a matter of fact there have been very long walks almost every evening this week. The weather's been right for it, balmy, or just a touch cool which certainly is what Kimba prefers.

The rainbow crew would have loved it. Well they were there in my heart. I know that Jack is ever in my thoughts and I like to imagine that I remain in his.

Last night I started a batch of the homemade "canned" dogfood in our huge "Le Creuset" dutch oven. It takes 24 hours of simmering and I'll finish it up tonight. They all love the stuff.

Champ is a good eater, and he actually gets a little more than everyone else. His ribcage still stands out like a washboard though. We've tried upping the amount of food he gets but when we do that for a couple of days he goes off his feed completely and walks away from his bowl without touching it. Maybe he just doesn't like the feeling of having eaten too much. The trick seems to be to never overfeed him. I guess that's just the way his metabolism is.

We're trying a new strategy with him, to get some meat on his bones. I discovered he LOVES those nutritional supplement drinks like Ensure and Boost. About 250 calories a bottle I know for the Ensure. He's getting one of those every day now during the day and so far it hasn't spoiled his appetite for the regular meals.

Last night I also made a batch of homemade "Frosty Paws" too. That's basically one part of melted smooth peanut butter mixed with 2 parts plain yogurt, and then poured into 3 oz portion cups and frozen. I threw in a little bit of honey too as a change of pace. They all like these as a treat (never more than once a week though), and one of these cups will keep each of them occupied for about 20 minutes.

The temperature dropped today but it's a bright sunny day. Another nice evening for a walk coming up but we'll have to put on the tummy-warmers.


Tuesday, April 12, 2005
"life is good and I am content"
Saturday Tom and I went to Kennel day up at Emerald Greyhounds. It has been a long time since we made the trip up to Wisconsin. The last time the tolls for the round trip totalled $1.80, this time it cost $5. Ouch!
It was a beautiful day up there, nice and sunny, with a very comfortable breeze. We got to scratch the current crop of adoptees which is always a dangerous thing to do because they just steal their way into your heart. We also got to scratch one of Terri's babies, all grown up now.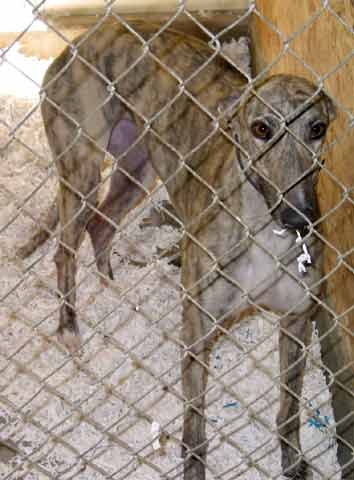 Her name is
Emerald Cents and she will be three on the 26th. Hun's had her there because she needed to go to the vets - apparently one of her legs was bothering her. I hope he remembers that we asked him to think of us when it's her time to retire.

And then I saw
FRISKY!!
"Oh So Frisky"
was up for adoption the same time as Knight was but didn't get a home for a long time after, about a year. Both Frisky and Knight were beautiful dark brindles, but Frisky was older and was harder to place because she reportedly needed to be placed as an only dog. See her adoption page that was up at the Greyhounds Only website
here
.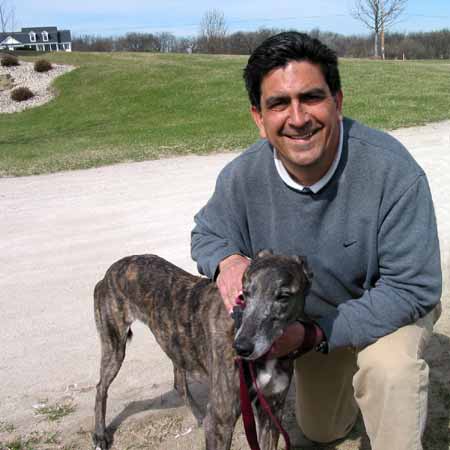 She finally got the home that was destined for her and has been there for about three years now. I would ask if anyone knew how she was doing and would hear glowing reports about her life with her own family. Saturday I got to see her for myself, doing really well, going into her 14th year. I got to spend a few minutes scratching her head and her eyes said it all - 'life is good and I am content.'
<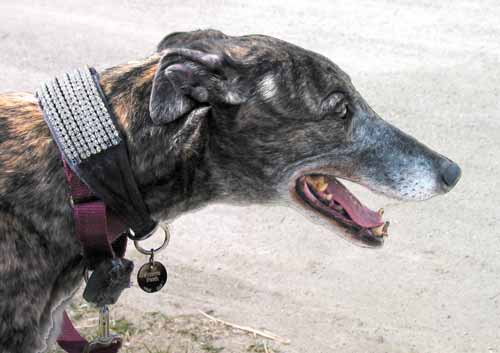 "life is good and I am content"