Edgewater Greyts WebLog
Wednesday, June 22, 2005
mother and daughter
Monday was Terri's first got'cha day with us. It's hard to believe it's been a year and it's hard to believe it's
only
been a year. Happy got'cha, girl! Recently she's begun to show a different kind of affection to me that truly touches my heart - a very gentle and trusting manner in how she interacts with me, and I am proud that she sees fit to treat me thusly.
I have to further comment on
what a good girl she is!
She is the best - and it is so clear that Hollie her former mom did a great job in teaching Terri her manners. Hat's off to you Hollie wherever you are. You are certainly welcome to visit Terri anytime you are back in the windy city.
Here is a picture I received from a mutual friend. Well, I
don't
dress up my crew, but I think this is a really funny shot. Still, I don't think Hollie would recognize the lady that Terri has become. Terri now is a very serene girl. I would guess it's her double-digit age, and maybe because she lives with a bunch of very laid-back hounds. Oh, except for her daughter Cents...
Tuesday was Cents one-month anniversary in our home. There is a running debate going on in the house about this poor girl's name. When we first brought her home we called her Penny because her kennel name Cents seemed awkward (it comes from her NGA name Emerald Cents). After all, a "Penny" is a "Cent." But last week I realized that she had a sister named Penny, so for me, "no, no, no, that cannot be." Tom however doesn't care for the name Cents. So we're using both, and she seems to know both.
Here are some shots that Kathy up at the kennel took of Cents before we brought her home.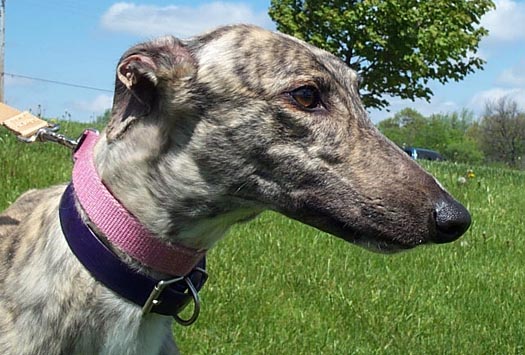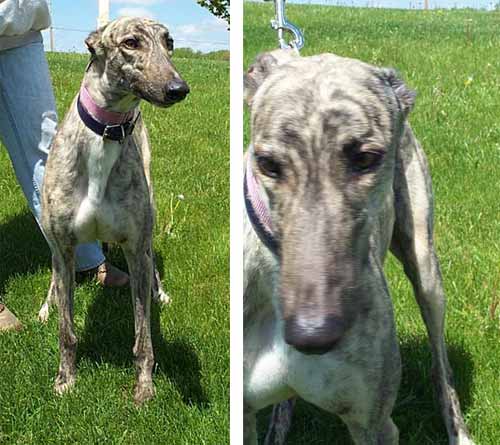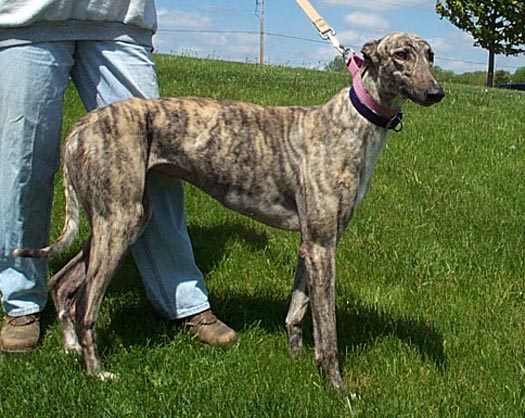 She took these pictures even though we snatched her up once we heard that Huns had retired her, because "I like to archive the dogs GO adopts, just in case we ever need them again."
We had Kathy's head spinning that kennel day. I asked her "Whatever happened with Emerald Cents?" and she replied, "Well, she's here. Oh, there she is." as one of the volunteers was about to put her back in the crate from a walk. I almost shrieked "we're taking her!!" while yelling at the poor volunteer "don't put her in, she's mine and she gets another walk with me." Kathy's jaw dropped and she said, "Are you serious?" "Yes, didn't you remember we put dibs on her should she come up for adoption?"
It was a funny kennel day. I wonder if our lack of hesitation about her had an influence on others that day - it seemed like some on-the-wall folks made decisions...
I sent the following email to Kathy just 6 days after we got Cents:

Hi Kathy,

Tom keeps remarking that Penny has fit in so well that it is like she has always been here.

You've not been to our house but we have a wicked set of steps between the first and second floors - curved and steep. She's now doing them at will without supervision. The last time I saw her show hesitation was 2 nights ago. She had gotten herself upstairs on her own but when it was time to come down with everyone else she didn't appear. I went up and she was afraid to try ALONE. She WANTED to do it one last time with me there holding her collar - no pulling on my part except just maybe showing her at a couple of points to go a little slower. Since then she's a pro.

She was shown twice going up (you know, one paw after the other thing) and one other time going down. Then she learned from the confidence of all the others on the steps. In our house it's a parade, one after the other when we move activities from one floor to the other. So she'd see them parade up or down the stairs with them all showing her how easy it is - one after the other... She caught on fast.

It is so obvious to me that the best learning happens amongt themselves. All she has to do is watch and follow their leads and she teaches herself. doG this has been easy.

She still thinks every meal is her last. She still noses at the bowls on the kitchen counter when meals are being prepared but we are VERY careful that she never gets the opportunity to earn her own reward for bad behavior. After all, Tom and I have been trained by the best of them, my old buddy Jack.

Terri and Penny do have a connection and I think it's growing closer. I really think there is some sort of affinity going on there.

She is a sweet girl and she's really winning our hearts. She's even cool with the toothbrushing routine. And not one mess in the house in all this time. Tonight I'm putting the crate away as I think she doesn't need it at all. We both went out yesterday and we left her loose in the house for the 3 1/2 hours we were gone. Everything was fine. Noone, including Penny, seemed at all stressed.

And she's decided she likes stuffies too. I think she likes it here. :-)

We're taking her to the vets Saturday for her maiden vet visit. That should complete her indoctrination into her new life.

Now we'll just have to wait for the REAL Penny's personality to come out.

Stavros


Well, speaking of that personality coming out, it is. She's learned some manners, and doesn't immediately attempt to get into every bowl at the start of meal time, but waits for hers to be put down, and eaten. She is as interested as Jack was as to the food that may be on the counter, so the diligence that we had to have with Jack left us well prepared for this youngster's novice attempts at counter surfing.
Most of the new things we are experiencing with her have to do with her youthful energy. She makes dozens of trips up and down from the second floor just keeping an eye on everything, all the time. We've also never had anyone decide to move as many stuffies out to the yard as she does. Oh, and she likes greeting me at the front door at a full run, putting on the breaks and making the hall runners into sliding pads. THAT trick I can do without.
Mother and Daughter. They behave more like sisters...